Warning: Contains discussion of sexual assault. Listener discretion is advised.
Originally aired on Loudspeaker One on October 8, 2021
We're all over the place this week, but it's worth it. There are new cuts from Kiesza, Garbage, Snail Mail, Macedo, Colorado favorites The Velveteers, Big Dopes, and much more. There's also a very powerful duet from Amanda Fucking Palmer and Reb Fountain, a song that was first released on YouTube and which you can also see here:
https://www.youtube.com/watch?v=N7ZDbBsjMt8
Produced by Chris Lanphear for Loudspeaker Networks.
Hear more great programs at https://www.loudspeaker.fm.
Follow Chris:
Follow Loudspeaker:
High And Lonesome

Robert Plant, Alison Krauss

Necessary Love

D'Sound, Shontelle

Label:

daWorks Entertainment

Lovers on the Weekdays

Big Dopes

Album:

Lovers on the Weekdays

Album:

Nightmare Daydream

Label:

Loudspeaker Networks

It's a good day (to fight the system)

Shungudzo

The Men Who Rule the World

Garbage

Album:

No Gods No Masters

Label:

Garbage Unlimited/STUNVOLUME

Blurred Lines + Rape Me

Amanda Palmer, Reb Fountain

Album:

Blurred Lines + Rape Me

Label:

Loudspeaker Networks

Smells Like Teen Spirit

Malia J.

Album:

Smells Like Teen Spirit

Label:

Think Up Anger, Red Light Management

Label:

Zebra Spirit Tribe LTD

Forget About You

Sally Shapiro

Label:

Italians Do It Better
What You Can't Look Up
Nov 20, 2021
•
Episode 9
We're back with some all-new tunes for your ears with locals Ryan Millard and Waiting Room, plus new...
Explicit
About Duckie's Funhouse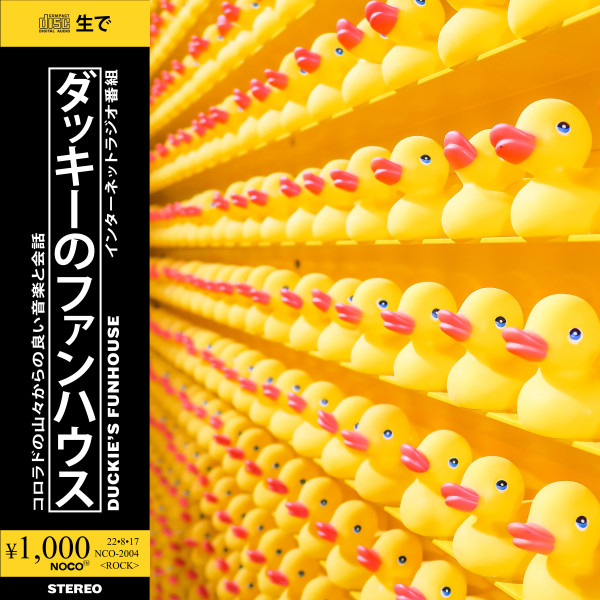 Cool music and conversation from the Colorado mountains. Duckie (Chris Lanphear) plays cuts for your listening pleasure. Sometimes well-worn, sometimes deep, but always interesting.

About The Host